After arriving home from camp and settling in, I got on the computer to see what I had missed, and yes, I've missed a lot. All this confusion and crazy news rushing over me and into my jumbled head which just hours ago was worrying about saying goodbye to all of my friends at camp was a little much for me at first. Now that I have adjusted a little more I can sit down and write on my blog. I must say, it feels pretty good.
While I was away at camp I thought of a lot of cool things to write about when I got back, but now I find it kind of hard to begin. I think I should write sort of a coming back entry that gets me back in the flow of things on the MLBlogosphere. So here goes…
From the day I left camp I had an idea related to my blog that stayed with me the entire time. Now I can carry it out. I thought some people might be interested in camp and how it was. Writing about stuff sometimes does help my summarize them in my mind and make them a little less confusing as well, so my hope was that I could make this entry informative for anyone who is curious about the latest month in my life, as well as therapeutic for me. As I said before, my mind is full to the top of stuff right now, so this should help.
The idea I had was to think about away to connect my experience at camp to baseball. I kind of got this idea from Matt Peaslee in his blog, The Pittsburgh Peas. One of the last blog entries I read was his entry about his trip to the amusement park Kennywood. He connected this relatively unrelated day to baseball and sports in a pretty cool way (check it out to find out how).
So I racked my memory of the last month for anything I could connect to baseball and I found a nice baseball story of my own I thought connected pretty well. While at camp baseball news is pretty distorted (as I said). I missed a good deal of trades, huge moments, up and down movement in the standings, etc. Often I found out about these things in strange and abnormal ways. For example, I first found out about Mark Buehrle's perfect game around 4 or 5 days ago (almost 2 weeks after he threw it) and only then did I find out about it from a friend's Sports Illustrated he had just received in the mail.
This is mostly due to the lack of internet for campers (even staff only go on a few times per week) and the scarce-ness of radios to listen to games or even time to listen to them. From the minute I arrived I was busy all day everyday, and I barely had time to worry about baseball. Yeah, it's maybe the one thing I follow the most in daily life, but yet I survived free of it for a month with literally no trouble at all.
I didn't even miss it too much until I heard the shattering news about David Ortiz becoming the latest on the list of convicted juicers. It was one of the only times at camp I truly wanted to be at home. I needed Red Sox Nation to comfort me as I knew they were to eachother at home. I needed the support on MLBlogs to help me keep my head up. I was at camp, where, even in Vermont, the number of serious Yankee fans outnumbers that of Red Sox fans. And even though I'll call them serious for sake of explaining my dilemma, I do think that many of them were sort of boneheads when the Ortiz news came to us. They gave us few Sox fans hell for a few days, popping up all over the place and insulting Ortiz, laughing at us in what I thought was only relief over the fact that: "Haha, now the Red Sox have a juicer too, they can't make fun of us anymore!") Okay, this might be true, but let's be honest, a lot of you Yankee fans didn't like A-Rod that much anyway.
C'mon…
The Ortiz news was extremely devastating to me. I sat at dinner for 10 minutes without saying a word. Even the one guy that we kept denying could have ever taken steroids had been on them. It was the final blow for me. I now fully understood that no fan could be safe from the crushing facts that any player these days could be on steroids. Sure, Big Papi went from no one to the best clutch player in Sox history in '04, kept playing better than ever. And then this season there was the huge slump, and words of steroids once again rose to the surface of the baseball world. Papi must have suddenly gone off the juice and that was why he was struggling so much this season. But no, we said, many of us still had faith even when that doubt was still in the back of our minds. We believed that the loveable face of our team wasn't in the same class as big league jerks like A-Rod, Bonds, etc. He was better than that. But in the end, was he really?
I was having trouble figuring that out while at camp. I needed to find solace somewhere to clear my mind while I wondered if I could even respect one of my favorite players anymore, if I could call my power hitter best friend Big Papi whenever he batted for our Little League team anymore.
As I was flipping through a Sports Illustrated that I had brought to camp, I found an
article
on Albert Pujols. Earlier this year he had been featured on the cover of SI in an article about how he assures you he isn't on any PEDs and that touted him as one of the few clean superstars left. I suddenly realized that I had an idol to turn to, someone that could even rid me of a little bit of the troubling news about David Ortiz. Pujols was my man. That day I put up a page from that magazine on the wall above my bed. I didn't look at it all that much, but in some little way, it helped me get over the Ortiz news and realize that there are some good guys still out there. I don't think Pujols will ever replace Ortiz in my mind in the way Papi did and I hope still can in the future, but for the time being, rooting for him is helping.
I only wish I could have heard the news in the comfort of my home with friends to help me through some news that really saddened me.
I don't have much more to say on the story, but I hope you can take something away from my heartwarming little story from camp. I hope I did an OK job connecting baseball to camp so that you could learn a little about my experiences there. It was a great time, but I'm glad to be back.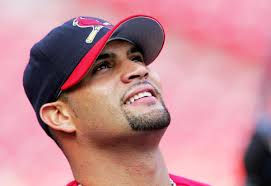 Thanks as usual for reading.
In the world of baseball, fans are constantly shocked by finding out a superstar has taken steroids or other PEDs. One by one, many people have seen their favorite stars cut down because of cheating: McGwire, Clemens, Bonds, Rodriguez, Sosa, Ramirez… Even more depressing is the fact that a player can no longer have a sudden burst of power or even a huge breakout season (also, a sudden drop of power, e.g. David Ortiz) without being accused as a steroid user. The worst part about it is, more and more often, the accusers are correct.
Do not lose hope entirely, though. If you are bogged down and depressed by the swirling steroid rumors and worried about your favorite player being the next revealed cheater, you can turn to ESPN (and its subdivisions: ESPN2, ESPN360) and ABC for the Little League World Series, starting August 21 this year. I have watched the LLWS in past years and really enjoyed it, and I do sometimes find it to be a good break (and, or distraction) from the seriousness of the big leagues.
Here's a brief outline of how the LLWS actually works:
Each team (I think usually made up of All Stars from a local little league) must advance through different divisions before they can reach the actual World Series in Williamsport, Pennsylvania. These divisions are typical of a worldwide tournament: in the US divison they go along the lines of town/city, county, state, region; in the international division they are understandably a little different. This year's US divisions are:
POOL A: Mid-Atlantic, Northwest, Southeast, Midwest
POOL B: New England, West, Southwest, Great Lakes
The international divisions are:
POOL C: Carribean, Japan, EMA, Latin America
POOL D: Europe, Mexico, Canada, Asia-Pacific
The winner in each region goes on to the LLWS. In this final tournament they are split up into matchups based on their pool. Then the 1st and 2nd place teams from each pool advance to the semifinals. Then there is the championship between the two international winners and the two US winners. Finally, for the real championship, the US champion faces the international champion.
This can be sort of complicated…for more information on how it works and the schedule, visit here.
In the past 4 years, US teams have dominated, as a US team has won each of those years. However, in the 6 years before that, international teams won 5 times. Therefore, international and US play have been exactly even in the past 10 years, so it is hard to predict a winner. Even with this being true, some powerhouses have emerged. In the past 10 years, teams from Japan have made it to the championship game 6 times (including 3 years in a row from 2001-2003), and won 4 of those times; teams from Curacao have made it twice in that 10 year span and won once; teams from Hawaii have won twice in the past 4 years, and teams from Georgia also won in both '06 and '07.
To find the results of every LLWS, visit here and scroll down to "Little League World Series champions".
But enough of all that boring stuff. Here's a few of my reasons why games are fun to watch:
-They are quick and don't take up much time, as they last only 6 innings
-Due to the small stadium size and the metal bats, there are a lot of homeruns
-However, even though that previous fact is true, a dominant pitcher can really excel, and there have been both perfect games and no hitters thrown in recent years
-All the kids are extremely talented, so it's not just an error-fest
-There is a cool feature that ESPN used last year that shows the pitcher's speed, and then below it, the MLB equivalent (I find this helpful when trying to figure out how fast these pitchers are really throwing for their age)
-The games can be really exciting, I think at least two of the last 4 championships have been ended on walkoff homeruns.
Those are just some of the reasons to try watching a game, and speaking of walkoff homeruns, here is Dalton Carikker's to win the '07 game (I'm still having trouble posting youtube videos, so this is just a link).
Still, though, it seems that no league can be safe from scandal, and in fact, there have been several in the LLWS, mostly regarding age. Many people will remember Danny Almonte, the young pitcher from the Bronx, whose fastball could reach up to 78 mph.
Almonte played for the Bronx in the 2001 LLWS and led them to the US finals, finishing in 3rd place overall. He threw a perfect game and a no hitter during the World Series, and struck out 62 of 72 batters he faced during the tournament. Remember that MLB equivalent stat for pitcher's speeds? Danny Almonte's average speed was equivalent to a 92 mph fastball in the bigs.
Almonte's skills seemed unreal to many people, and sadly, they were. A few weeks after the tournament ended, Sports Illustrated reporters Ian Thomsen and Luis Fernando Llosa found records proving that Almonte was 14 years old, 2 years above the Little League age limit. Almonte's father had brought him the the US from the Dominican Republic in 2000, and it seemed that the birth certificate presented to Little League officials had been false.
Although his parents insisted that he was the correct age, after a full investigation, it was revealed that he was, in fact, 14. All of his team's records and wins in the LLWS had to be forfeited and erased from the record books. Little League president Stephen Keener said that Almonte and his teammates had been "used … in a most contemptible and despicable way" and that "millions of Little Leaguers around the world were deceived."* Many people also thought that this incident brought the stereotype about obsessive sports parents to life.
Almonte maintains that he did not know he would be playing against kids younger than him, and although he had second thoughts during the tournament, he didn't know how to tell his coach that he didn't want to play anymore. It is a sad story and one that shows that even in what appears to be a safe haven from cheating, it has still occurred in the past. For more info on Almonte, watch this recent video produced by ESPN.
Even the occasional scandal in the LLWS is dwarfed by great stars that are produced by the league. Here are some of the league's famous alums:
Jason Bay played for Trail, British Columbia in 1990. Here's little Jason:
Dwight Gooden and Gary Sheffield both played for the Tampa, Florida team. Here's Gary.
Jason Marquis played for Staten Island, New York in 1991.
Lastings Milledge played for Bradenton, Florida in 1997. That's Lastings sliding into home.
Jason Varitek played for Almonte Springs, Arizona in 1984. Here are two pics of Tek.
Those are a few of now famous Little League baseball players, for more check out this list.
So this summer if you need a little break from PEDs and cheating, tune into the Little League World Series.
Thanks for reading.
Stats and info found through littleleague.org
*quote found through wikipedia.org