If I were to ever find myself in a position of teaching baseball offense to someone, I think I would use last night's Yankees-Red Sox game as a model for my class.
Baseball is a game where scoring is pretty unpredictable. It's very hard to know when there's going to be a shutout, or when, like last night, a team is going to score 20 runs. Offense can sometimes be misinterpreted due to this. Just because a team loses 2-1, it doesn't mean that their offense wasn't working. They clearly weren't at their best, but who's saying they didn't leave the bases loaded in every inning? They failed to produce, but I think that loading the bases still counts for some sort of offense.
Because games like that (stranding the bases loaded so much) are rare, I would probably choose a clear offensive game for any example in my "class".
Last night, was an unbelieveably clear, offensive game. Our starter, Brad Penny, left the game after 4 innings, already having allowed 8 runs. There is an ongoing problem with Penny that was clearly shown here. I'll let you take a guess as to what this problem is with the help of this stat- He threw 89 pitches through 4 innings last night.
Yeah, Mr. Penny throws far too many pitches and therefore wears himself out ridiculously soon in the game. Sorry, but this is not the guy we want starting off a series like this.
Our relievers didn't fare much better against the torrent of hits the Yankees were bringing upon us. Michael Bowden came in and let up 7 runs in 2 innings, even worse (if you can believe it) than Penny had done.
Surprisingly, Takashi Saito, one of our relievers that has really struggled this season, produced one of the few really good innings in the game, allowing no hits and no runs while striking out one.
The lead just kept building, even as our offense began to FINALLY produce. We scored 10 runs in the last 5 innings of the game, but the Yankees, already leading 6-1 before this point, scored 14 runs to match that. While 14-10 might have been a decent game for us, because of those early innings, the score was actually 20-11. Yes, 20 runs. The most the Yankees have ever scored against us.
As much as I hate to admit it, the Yankees have one of the best offenses I've ever seen live. And as much as I wish it wasn't true, they are (right now) just about the best possible example on how to run a baseball offense. They can hit (23 hits in the game), they hustle (8 doubles and a triple), they score (20 runs), and they wear a pitcher down (see "Brad Penny").
Now before I get carried away, I'm going to have to stop getting so enthralled by the Yankee offense. And what can do this for me? A little Red Sox offense, please…
The Red Sox offense wasn't so bad. Against most other teams, 11 runs wins a game. Lowell went 3-5, Pedroia went 2-5, and Ortiz went 2-4. Our offense was not nonexistent. It was just dwarfed by the superior offense of the Bronx Bombers. That pretty much spells out what we need to do tonight. We have to turn up the bats, crank off some hits, and outhit, outrun, and outscore the Yankees. I'm pretty sure that'll lead to a win.
All this is not to say that the game didn't have it's bright points. Jerry Remy was back in the booth after an ongoing struggle with depression and lung cancer. Remy is my favorite broadcaster of all time, without a doubt, and I can't even say how happy I am to see the man doing well and back doing what he is so good at.
Needless to say, I wasn't the only one overjoyed to see the RemDawg back in business.
The pictures go on…
It is great to see so much love and happiness in the stands for Remy. He deserves it!
Also, in the 1st inning, Jacoby Ellsbury stole 2nd base to tie Tommy Harper's Red Sox record of stolen bases in a season, at 54.
Jacoby is an ABSOLUTE speedster!
We know what we have to do. We can't let this lead keep growing bigger and bigger. Now is the time to win! I still believe that we are as good as the Yankees, let's prove it! So tonight, let's duplicate the Yankees' success and lead an offensive outburst of our own! GO SOX!!
Maybe the boys did some recommended reading…
…because the comeback was alive and well in Arlington, Texas last night. It is something us Red Sox fans haven't seen for a while. The last few weeks for us have been depressing, as our guys have struggled to hit when we needed it and we just haven't been able to come through on several wins we really needed.
Heading into what everyone knew would be an exciting and decisive series with the Rangers, our hopes were high. We knew that beating Texas would be tough, but we were confident we had what it took.
Jon Lester took the mound for us in the first game of the series yesterday. He was facing Kevin Millwood, who has been decent this year. Lester has been our #2 pitcher for most of the season, so we expected him to bring it to set the tone for the rest of the series. One of our problems has been good starting pitching in the last few weeks. Aside from bright points whenever Beckett pitches, we have been unable to really decide things with the quality of our starters.
Texas got on the scoreboard very quickly, scoring on a 2-run homer by Michael Young as only the 2nd batter. We struggled to even it up until the 6th, making legitimate threats in the 2nd and 4th innings. Finally, Ortiz homered and drove in 2 runs, and just like that, we were back in the game.
A few innings later, going into the 9th inning, the score was 4-2 Rangers, and thus the stage was set for a comeback.
We started off by rallying for one run off of hits by Ortiz, Varitek, and Ellsbury. We were only down one run at this point. Things were starting to change course. With men on 1st and 2nd, Francona made the decision to put pitcher Clay Buchholz in as a pinch runner for V-Tek on 2nd. Pedroia then hit a long fly ball to left field. The ball bounced off the wall as left-fielder David Murphy missed his attempt to leap and catch it. This is where things got interesting. Buchholz, standing on 2nd, thought the ball had been caught. Ellsbury had seen the play and was sprinting from first, so Buchholz quickly rounded third and, sliding headfirst into home, was called out. The baserunning blunder by Buchholz had cost us an out, and things didn't look so good.
With 2 outs (the other from a Woodward strikeout), Victor Martinez came up with men on 2nd and 3rd. It was a grim situation. Martinez fought through a grueling 7 pitch at bat before he found one he liked, and doubled to deep right field, scoring both runs! The score was 5-4 Red Sox!
In my opinion, this was one of those times when you really get to know your team. If the Red Sox had just figured they were going to win, and just stopped trying right there, two things may have happened. First, we may have actually won anyway. Maybe Texas wouldn't have had enough energy left either, and we would have shut them down in the bottom of the 9th. But we also may have lost. Our defense might have come out and started playing without much enthusiasm. After maybe an error, a few missed plays, Texas may have been right back in this game.
However, we didn't settle for either of those outcomes. We stayed in the game and rallied for 3 more runs. A 6-run inning!! I learned something valuable about the 2009 Boston Red Sox in that inning: We have what it takes to win.
All in all, it was a happy night in Red Sox Nation. To top it all off, earlier during the day we acquired shortstop Alex Gonzalez, who played for us in 2006. As many of you probably know, we have been in dire need of a shortstop these past few weeks. Although the acquisition is meant only to be a short-term solution for our shortstop woes, let's hope Gonzalez is the missing piece of the puzzle for this team to succeed. Welcome back, Alex!
So far so good in this Rangers series. Keep up the good work, boys!
Thanks for reading. (sorry about the wierd font change, not sure why that happened!)
p.s. Tomorrow I'm traveling up to Maine. I don't know if I'll be able to blog tomorrow, but I should be able to get in at least 2 or 3 entries during this next week.
After arriving home from camp and settling in, I got on the computer to see what I had missed, and yes, I've missed a lot. All this confusion and crazy news rushing over me and into my jumbled head which just hours ago was worrying about saying goodbye to all of my friends at camp was a little much for me at first. Now that I have adjusted a little more I can sit down and write on my blog. I must say, it feels pretty good.
While I was away at camp I thought of a lot of cool things to write about when I got back, but now I find it kind of hard to begin. I think I should write sort of a coming back entry that gets me back in the flow of things on the MLBlogosphere. So here goes…
From the day I left camp I had an idea related to my blog that stayed with me the entire time. Now I can carry it out. I thought some people might be interested in camp and how it was. Writing about stuff sometimes does help my summarize them in my mind and make them a little less confusing as well, so my hope was that I could make this entry informative for anyone who is curious about the latest month in my life, as well as therapeutic for me. As I said before, my mind is full to the top of stuff right now, so this should help.
The idea I had was to think about away to connect my experience at camp to baseball. I kind of got this idea from Matt Peaslee in his blog, The Pittsburgh Peas. One of the last blog entries I read was his entry about his trip to the amusement park Kennywood. He connected this relatively unrelated day to baseball and sports in a pretty cool way (check it out to find out how).
So I racked my memory of the last month for anything I could connect to baseball and I found a nice baseball story of my own I thought connected pretty well. While at camp baseball news is pretty distorted (as I said). I missed a good deal of trades, huge moments, up and down movement in the standings, etc. Often I found out about these things in strange and abnormal ways. For example, I first found out about Mark Buehrle's perfect game around 4 or 5 days ago (almost 2 weeks after he threw it) and only then did I find out about it from a friend's Sports Illustrated he had just received in the mail.
This is mostly due to the lack of internet for campers (even staff only go on a few times per week) and the scarce-ness of radios to listen to games or even time to listen to them. From the minute I arrived I was busy all day everyday, and I barely had time to worry about baseball. Yeah, it's maybe the one thing I follow the most in daily life, but yet I survived free of it for a month with literally no trouble at all.
I didn't even miss it too much until I heard the shattering news about David Ortiz becoming the latest on the list of convicted juicers. It was one of the only times at camp I truly wanted to be at home. I needed Red Sox Nation to comfort me as I knew they were to eachother at home. I needed the support on MLBlogs to help me keep my head up. I was at camp, where, even in Vermont, the number of serious Yankee fans outnumbers that of Red Sox fans. And even though I'll call them serious for sake of explaining my dilemma, I do think that many of them were sort of boneheads when the Ortiz news came to us. They gave us few Sox fans hell for a few days, popping up all over the place and insulting Ortiz, laughing at us in what I thought was only relief over the fact that: "Haha, now the Red Sox have a juicer too, they can't make fun of us anymore!") Okay, this might be true, but let's be honest, a lot of you Yankee fans didn't like A-Rod that much anyway.
C'mon…
The Ortiz news was extremely devastating to me. I sat at dinner for 10 minutes without saying a word. Even the one guy that we kept denying could have ever taken steroids had been on them. It was the final blow for me. I now fully understood that no fan could be safe from the crushing facts that any player these days could be on steroids. Sure, Big Papi went from no one to the best clutch player in Sox history in '04, kept playing better than ever. And then this season there was the huge slump, and words of steroids once again rose to the surface of the baseball world. Papi must have suddenly gone off the juice and that was why he was struggling so much this season. But no, we said, many of us still had faith even when that doubt was still in the back of our minds. We believed that the loveable face of our team wasn't in the same class as big league jerks like A-Rod, Bonds, etc. He was better than that. But in the end, was he really?
I was having trouble figuring that out while at camp. I needed to find solace somewhere to clear my mind while I wondered if I could even respect one of my favorite players anymore, if I could call my power hitter best friend Big Papi whenever he batted for our Little League team anymore.
As I was flipping through a Sports Illustrated that I had brought to camp, I found an
article
on Albert Pujols. Earlier this year he had been featured on the cover of SI in an article about how he assures you he isn't on any PEDs and that touted him as one of the few clean superstars left. I suddenly realized that I had an idol to turn to, someone that could even rid me of a little bit of the troubling news about David Ortiz. Pujols was my man. That day I put up a page from that magazine on the wall above my bed. I didn't look at it all that much, but in some little way, it helped me get over the Ortiz news and realize that there are some good guys still out there. I don't think Pujols will ever replace Ortiz in my mind in the way Papi did and I hope still can in the future, but for the time being, rooting for him is helping.
I only wish I could have heard the news in the comfort of my home with friends to help me through some news that really saddened me.
I don't have much more to say on the story, but I hope you can take something away from my heartwarming little story from camp. I hope I did an OK job connecting baseball to camp so that you could learn a little about my experiences there. It was a great time, but I'm glad to be back.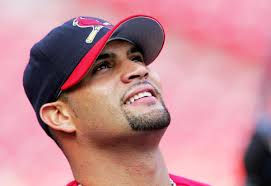 Thanks as usual for reading.